Secondary Sources – The Canadian Encyclopedic Digest
The Canadian Encyclopedic Digest (CED) is published in loose-leaf format by Thomson Carswell.
The CED is issued in two editions:
the Western Edition

a set of black binders, covering the law of the four western provinces; and,

the Ontario Edition

a set of dark blue binders, covering the law of Ontario and the Atlantic provinces.
Whether you consult the Western edition, the Ontario edition, or both, depends on the jurisdiction and the area of law being researched.
While at law school, you will probably consult the Ontario edition most often.
The CED is composed of:
the Main Work;
updating Supplements;
the Index; and
the Research Guide and Key.
Main Work
The main work of the CED is organized alphanumerically using volume numbers and subject titles One volume will often contain several subject titles, with each title covering a discrete legal topic.
Subject titles are further broken down into headings, paragraphs, and sections. Each section stands for a specific proposition of law and is supported by primary authority in the accompanying footnotes.
Make sure to take note of the relevant case law and legislation mentioned in the footnotes; it will save you time later on!
Fig 1.1 The Main Work of the CED (Shelved in FTX Reference)
Supplements
The main work of the CED is updated regularly using supplements.
The updating supplement pages are inserted at the beginning of each subject title.
You must always check to see whether the sections you are relying on have been updated!
Research Guide & Key
The research guide explains how to use the CED. It also contains the:
Subject Key

a listing of all of the subject titles in the CED along with their corresponding volume and title numbers.

Statutes Key

an alphabetical listing of every statute referred to in the CED, along with coordinates (i.e. volume, subject title, and section numbers) indicating the location of every reference to that statute within the CED. See Fig 1.4

Regulations Key:

a listing of every regulation referred to in the CED, including coordinates to help you locate every mention of a particular regulation in the CED.
Fig 1.2 The CED Index & Research Guide and Key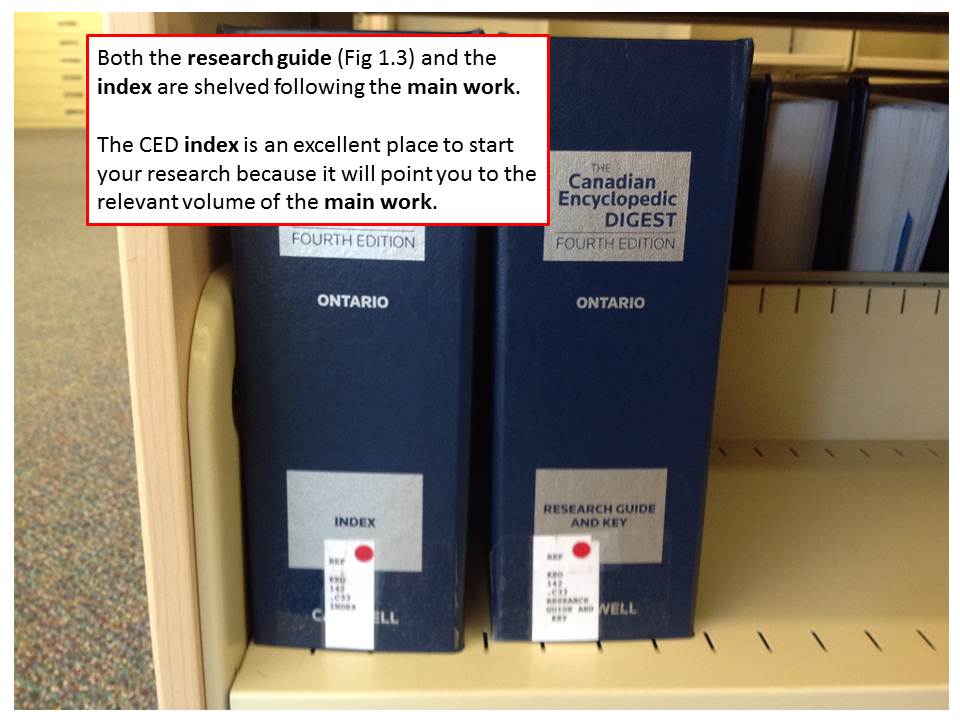 Fig 1.3 The Research Guide and Key Volume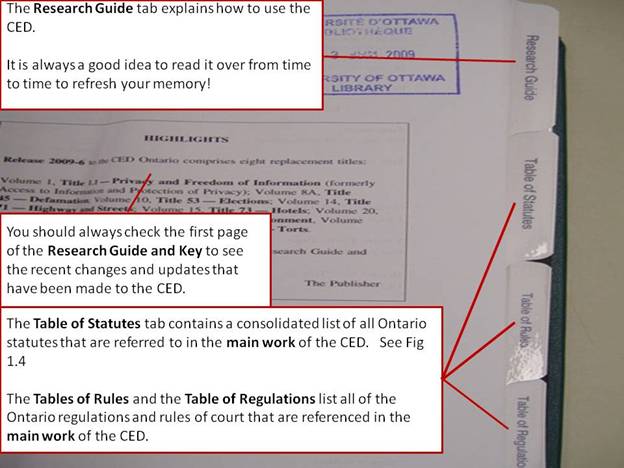 Fig 1.4 The Statutes Key