Legal Citations – The Neutral Citation (McGill Guide, 3.5)
Neutral citations are assigned by the courts as they render their judgments. They allow us to identify a case without reference to a printed reporter. A neutral citation indicates:
the year of the decision;
the level and the jurisdiction of the court; and,
a chronological number (indicating the number of decisions that court has released to date that year).
However, a neutral citation does not provide the information required to actually locate the case (i.e. the reporter information).
Nevertheless, the neutral citation is incredibly helpful when searching for case law electronically.
Although a neutral citation contains no information about the particular reporter or reporters in which it was published, you can easily track this info down by searching an online legal database using the neutral citation.
Service providers like CanLII, WestlawNext Canada, and LexisNexis/Quicklaw let you search their databases using the neutral citation.
But remember, a core citation to a printed reporter is still required according to the McGill Guide.
A neutral citation can only be used by itself if the judgment has not yet been printed in a reporter or published online. See Fig 1.1.
Fig 1.1 Neutral Citation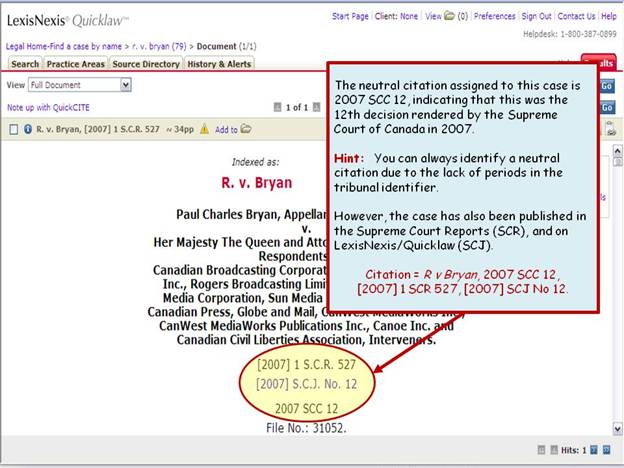 Remember, neutral citations are a relatively new creation.
Courts only began assigning neutral citations to their decisions in 1999 or so. The Supreme Court of Canada was the first Canadian court to adopt this practice, and other Canadian courts have followed suit over the years.

So, many older precedent-setting cases will not have neutral citations.

Nevertheless, if a neutral citation is available, you must cite to it first, before including your core citation to a reporter.
Consult chapters 3.1 and 3.2 of the McGill for more information.