uOttawa News
uOttawa Experts
Search Results
Your search for "Neurophysics" returned the following 1 expert(s):
---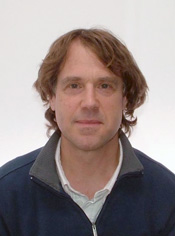 Director, Center for Neural Dynamics
Full professor
Faculty of Science
Physics
Contact information:
Office: 613-562-5800 (6762)
E-mail: alongtin@uOttawa.ca

Preferred method of contact:
E-mail
Research information:
I study how nonlinear systems can generate unpredictable behaviour including chaos. I also study how this behaviour is influenced by various sources of noise such as environmental fluctuations. This research is applied to the neurosciences, where I seek to understand how our senses code information about the outside physical world, and to unravel the secrets of the codes used by the brain. It is also applied to physiological variability such as that of heart rate and breathing rate in health and disease, using also nonlinear time series methods. My mathematical models make predictions about experimental outcomes in my colleagues' neurobiological and clinical laboratories. I am interested finally in plasticity and memory formation, neurotransmitter balance in mental health, the role of feedback between brain areas, and the behaviours of neurons under trauma.
Area(s) of expertise:
(View other experts in this field)
Language preference:
English and French