Leblond, Patrick
---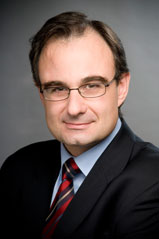 Associate Professor
Associate professor
Faculty of Social Sciences
Graduate School of Public and International Affairs
Contact Information:
Office: 613-562-5800 (2953)
Cell: 613-263-9824
E-mail: pleblond@uOttawa.ca
Website
Preferred Method s of Contact:
E-mail, Cell Telephone, Office Telephone
Research Information:
Owing to my training and experience in business, economics and international relations, my expertise concerns questions relating to global economic governance, more specifically those that deal with international money and finance, international economic integration as well as business-government relations. My regional expertise focuses on Europe and North America, though I am also interested in China's impact on the world economy.
Areas of Expertise:
Language Preference:
French and English
Find an Expert
line divider
Search our database of more than 500 University of Ottawa experts, who can comment on current events or share their expertise for news features.
Hint: Searches are not case sensitive and word fragments are accepted.