Media
uOttawa Experts
Brown, Earl
---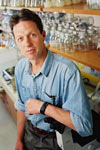 Emeritus professor
Faculty of Medicine
Biochemistry, Microbiology and Immunology
Contact Information:
Office: 613 562 5800 x8299
Home: 613 224 7533
E-mail: ebrown@uOttawa.ca

Preferred Method of Contact:
E-mail
Research Information:
Virology and microbiology are my specialties. My main activities are on viral genetics and evolution mainly directed at understanding how viruses cause disease (pathogenesis) or become adapted to new hosts. The mechanism used by influenza virus to control the antiviral interferon response. Experience with several viruses, hepatitis C, reovirus, mumps virus, Torque Tino virus (TTV).
Areas of Expertise:
Language Preference:
English only