Media
uOttawa Experts
Deonandan, Raywat
---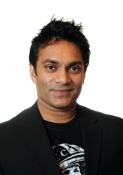 Dr.
Assistant professor
Faculty of Health Sciences
Contact Information:
Office: 613-562-5800 (8377)
E-mail: ray@deonandan.com
Website
Preferred Method of Contact:
E-mail
Research Information:
Trends in the impacts and implications of assisted human reproduction technologies. The ethics of reproductive medical tourism (the phenomenon, mostly, of infertile individuals from wealthy nations traveling to less developed nations to acquire reproductive services, such as surrogate mothers). The addressing of preventable blindness in rural India 4. Health education among Aboriginals in the deep interior of the South American rainforest Science education in poorly resourced areas.
I am an acclaimed fiction author (winner of the national book award of the nation of Guyana), and can speak about Canadian, Caribbean and world literature.
Areas of Expertise:
Language Preference:
English only