Ahmed, Rukhsana
---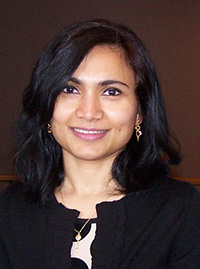 Ph,D.
Professeure agrégée
Faculté des arts
Communication
Coordonnées :
Tél. bureau : 613-562-5800 (3834)
Courriel : rahmed@uOttawa.ca
Site web
Modes de communication préféré :
Courriel, Tél. bureau
Renseignements sur la recherche :
Dr. Rukhsana Ahmed's research embraces the cross/trans/inter-disciplinary nature of communication scholarship, with specific focus on exploring the role of communication processes in improving health outcomes among marginalized communities and promoting broader social changes in international health contexts. She is particularly interested in the ways in which systems of beliefs, values, actions, and symbols are shared, or not, by people and how social groups influence communication in health care interactions. She is also interested in the ways in which people's cultural selves become entwined with race, ethnicity, gender, and social class groups and shape their perceptions of health, illness, and health care. Although her research is deeply rooted in health communication, Dr. Ahmed is also actively involved in interdisciplinary and multisectoral projects and partnerships in other realms of communication, including immigrant integration, multicultural media, and religious diversity.
Domaine(s) de spécialisation :
Langues :
Anglais seulement, Bengali
Recherche
line divider
Consultez notre base de données renfermant les noms de plus de 500 spécialistes, prêts à commenter des sujets d'actualité ou à faire part de leurs connaissances dans le cadre de reportages.
Indice : La fonction de recherche n'est pas sensible à la casse et les fragmentations de mots sont acceptées