Gray, Douglas
---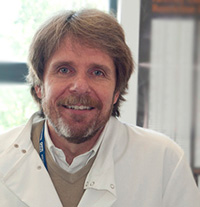 Senior Scientist
Full professor
Faculty of Medicine
Biochemistry, Microbiology and Immunology
Contact Information:
Office: 613-737-7700 x70331
E-mail: dgray@ohri.ca
Website
Preferred Method of Contact:
E-mail
Research Information:
My laboratory studies the molecular biology of aging and diseases associated with aging (neurodegenerative diseases and cancer). Our primary focus is on the role of declining protein degradation efficiency in aging. Our research makes extensive use of transgenic mouse models, cell culture systems, and live cell imaging.
Areas of Expertise:
Language Preference:
English only
Find an Expert
line divider
Search our database of more than 500 University of Ottawa experts, who can comment on current events or share their expertise for news features.
Hint: Searches are not case sensitive and word fragments are accepted.