Liang, Ming
---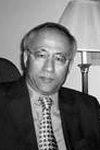 Full professor
Faculty of Engineering
Mechanical Engineering
Contact Information:
Office: 613-562-5800 (6269)
Home: 613-834-4763
E-mail: mliang@uOttawa.ca
Website
Preferred Method s of Contact:
E-mail, Office Telephone
Research Information:
Vibration-based machine monitoring, oil-based monitoring system for on-line monitoring of both rotational and non-rotational machinery, general machinery and structure malfunction detection and diagnosis, wind turbine condition monitoring, vibration analysis and control, lubricating oil debris detection, sensor and signal processing applications, integrated and intelligent decision making, computational intelligence.
Other areas of expertise: Machine condition monitoring, fault detection and diagnosis, sensor technology applications, computational intelligence, manufacturing planning.
Areas of Expertise:
Language Preference:
English only, Chinese
Find an Expert
line divider
Search our database of more than 500 University of Ottawa experts, who can comment on current events or share their expertise for news features.
Hint: Searches are not case sensitive and word fragments are accepted.