Media
uOttawa Experts
CHALIFOUR, Nathalie
---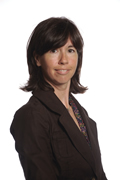 Co-Director, Centre for Environmental Law and Global Sustainability
Associate professor
Faculty of Law
Common Law
Contact Information:
Office: 613-562-5800 (3331)
E-mail: natchali@uOttawa.ca
Website
Preferred Method s of Contact:
E-mail, Office Telephone
Research Information:
My work is in the area of environmental law and policy and sustainable development, with a focus on economic instruments (eg. carbon taxation), climate change, constitutional law and the environment (eg. division of powers, environmental rights under the Charter), sustainable agriculture, Aboriginal peoples and the environment, women and environment, and environmental justice (eg. distributional impacts of environmental policies, environment and health).
Areas of Expertise:
Language Preference:
French and English