CLARK, Ian D.
---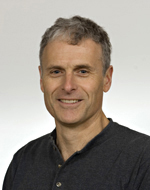 Director of Geochemistry and Isotope Laboratories
Full professor
Faculty of Science
Earth Sciences
Contact Information:
Office: 613-562-5800 (6834)
Home: 613-595-2155
E-mail: idclark@uOttawa.ca
Website
Preferred Method of Contact:
Office Telephone
Research Information:
Hydrogeology, with expertise in isotope hydrology – the use of isotopes as tracers of water and solute movement. The geochemistry and contamination of groundwater. Issues regarding the safe burial of nuclear waste and radionuclide transport in the environment. Study of past climates and the impacts of climate warming on hydrology in the Arctic.
Areas of Expertise:
Language Preference:
French and English
Find an Expert
line divider
Search our database of more than 500 University of Ottawa experts, who can comment on current events or share their expertise for news features.
Hint: Searches are not case sensitive and word fragments are accepted.