Media
uOttawa Experts
Blais, Alexandre
---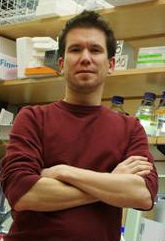 Associate professor
Faculty of Medicine
Biochemistry, Microbiology and Immunology
Contact Information:
Office: 613-562-5800 (8463)
E-mail: alexandre.blais@uottawa.ca
Website
Preferred Method of Contact:
E-mail
Research Information:
Our research group studies how the control of gene expression determines cell identity. In particular, we aim at understanding how certain proteins regulate gene transcription in skeletal muscle stem cells during regeneration. To this end, we use an approach called functional genomics, where we study at the scale of the entire genome how proteins interact among each other and with DNA to control gene expression.
Areas of Expertise:
Language Preference:
French and English