Media
uOttawa Experts
Dallaire, Christine
---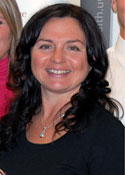 Full professor
Faculty of Health Sciences
School of Human Kinetics
Contact Information:
Office: 6135625800
Office: 4279
E-mail: christine.dallaire@uOttawa.ca
Website
Preferred Method of Contact:
E-mail
Research Information:
Christine Dallaire studies sports and physical activity from a sociocultural perspective, with a particular focus on Canadian society, youth and communities as well Canada's francophonie. She is currently comparing the experiences of young adults (18-25 years old) that invest themselves in sports leadership roles as a form of community engagement through the Boys and Girls Club of Ottawa, the YMCA-YWCA Capital Region and the Jeux de l'Acadie. Her earlier research focused on the role of sport in community building and in youth francophone and national belonging at the Jeux de l'Acadie, the Jeux franco-ontariens, the Jeux francophones de l'Alberta, the Jeux de la francophonie canadienne and the Jeux du Québec.
Areas of Expertise:
Language Preference:
French and English