Media
uOttawa Experts
BROWN, EARL
---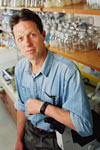 Emeritus professor
Faculty of Medicine
Biochemistry, Microbiology and Immunology
Contact Information:
Office: 16132247533
Office: 6135625800x8299
Cell: 16137168026
E-mail: ebrown@uOttawa.ca

Preferred Method of Contact:
E-mail
Research Information:
Performed genetic studies of RNA viruses with a focus on evolution of virulence in influenza virus, reovirus replication and cancer treatment, and hepatitis C immune evasion. The work focused on understands viral replication so that virus infection can both be prevented and alternatively be applied as therapy to treat diseases. He is a founding member of the Canadian Oncolytic Virus Consortium that is developing viruses as novel tumor therapeutics. He is also the founding Executive Director of the University of Ottawa for Emerging Pathogens Research Centre (EPRC). Dr. Brown is an internationally recognized influenza researcher who sits on various committees and institutional groups (CIHR workshop on influenza research priorities 2005; CIHR Pandemic Preparedness Strategic Research Initiative Task group; Organizing and program committee Chair of the 2008 of Canadian Pandemic Preparedness Meeting ; Pandemic Vaccine Working Group of the Public Health Agency of Canada; ) dealing with influenza pandemic preparedness.
Areas of Expertise:
Language Preference:
English only