Cao, Huhua
---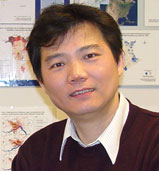 Dr.
Full professor
Faculty of Arts
Geography
Contact Information:
Office: 613-562-5800 (1043)
Cell: 613-864-5775
E-mail: caohuhua@uOttawa.ca
Website
Preferred Method s of Contact:
E-mail, Cell Telephone
Research Information:
Dr Huhua Cao has been involved in extensive research activities in North America, Asia, Eastern Europe and Africa. In recent years, his research has focused on urban and regional development in China, particularly minority regions, and around the following three axes: 1) Mobility and Urbanisation; 2) Spatial inequality and Accessibility of social services; 3) Ecosystem Assessment and Management (EAM). The majority of his research is founded on the usage of geostatistical methods and Geographic Information Systems (GIS). Professor Cao's research has been funded several times by institutions including the Social Sciences and Humanities Research Council of Canada (SSHRC), Canadian Institutes of Health Research (CIHR), Canadian International Development Agency (CIDA), International Development Research Centre (IDRC), Human Resources and Skills Development Canada (HRSDC) and also by Chinese Government ministries such as the Ministry of Science and Technology and Ministry of Education.
Areas of Expertise:
Language Preference:
French and English, Chinois (mandarin)- Langue maternelle
Find an Expert
line divider
Search our database of more than 500 University of Ottawa experts, who can comment on current events or share their expertise for news features.
Hint: Searches are not case sensitive and word fragments are accepted.