Desrosiers, Marie-Eve
---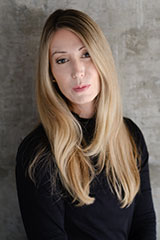 Associate Professor
Associate professor
Faculty of Social Sciences
School of International Development and Global Studies
Contact Information:
Office: 613-562-5800 (8987)
Office: 613-562-5680
E-mail: Marie-Eve.Desrosiers@uOttawa.ca

Preferred Method of Contact:
E-mail
Research Information:
Marie-Eve Desrosiers is associate professor in the School of International Development and Global Studies. Her research focuses on the security of developing countries. She studies political crises and civil conflicts, the role of identity in contentious politics, state-society relations, as well as state fragility. Her most recent studies have examined episodes of political violence in Rwanda during the twentieth century. She also conducts research on Canadian foreign and international development policy. She was a founder of the francophone branch of the Canadian Consortium on Human Security and she regularly takes part in civil society activities pertaining to human security.
Areas of Expertise:
Language Preference:
French and English
Find an Expert
line divider
Search our database of more than 500 University of Ottawa experts, who can comment on current events or share their expertise for news features.
Hint: Searches are not case sensitive and word fragments are accepted.