Gilbert, Lorraine
---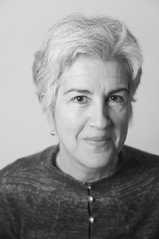 Professor of Photography and Visual Arts
Associate professor
Faculty of Arts
Visual Arts
Contact Information:
Office: 613-562-5800 (3735)
Home: 613-231-2874
E-mail: lgilbert@uOttawa.ca
Website
Preferred Method of Contact:
E-mail
Research Information:
I am an artist and a photographer. I have been teaching art for 25 years. I am current in the debates between traditional and digital photography as well as the role of photography in contemporary art practice. I have designed and supervised the operation of two digital photography labs, one for teaching groups and at the graduate level, for advanced techniques and large-format printing. I am interested in the predominance of women in art schools, and as photography students. I am concerned that this dominance at the undergraduate educational level is superseded by a lack of presence and visibility in the art market, the museums and the commercial photography sectors.  I also have experience in curriculum development as well as accreditation reviews with governmental and institutional regulation organizations. I am interested in the education of artists, and in art as an important education for all of society. I have been a member of peer reviewed juries, with many art councils and organizations at the federal, provincial and municipal levels.
Areas of Expertise:
Language Preference:
French and English
Find an Expert
line divider
Search our database of more than 500 University of Ottawa experts, who can comment on current events or share their expertise for news features.
Hint: Searches are not case sensitive and word fragments are accepted.